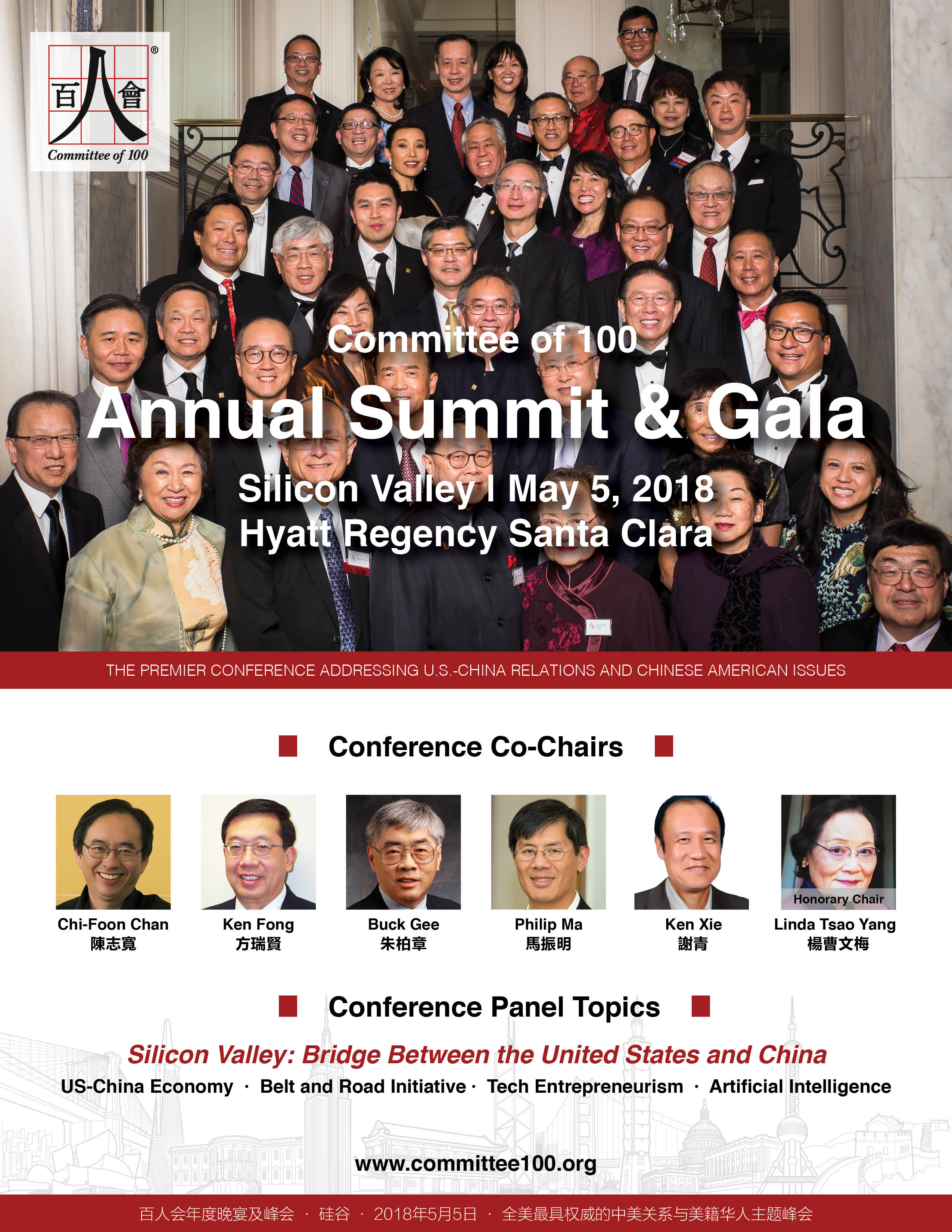 Event Details
The C100 Annual Conference is the nation's premier forum on U.S.-China Relations and Asian American advancement.
This will be Committee of 100's largest gathering of the year, covering the foremost issues of our twin missions. This year, the Annual Conference will be held in Silicon Valley, and we expect over 500 major influencers in government, business, academia, and the media to join.
Our Conference theme this year is "Silicon Valley: Bridge Between the United States and China."
GALA HONOREES: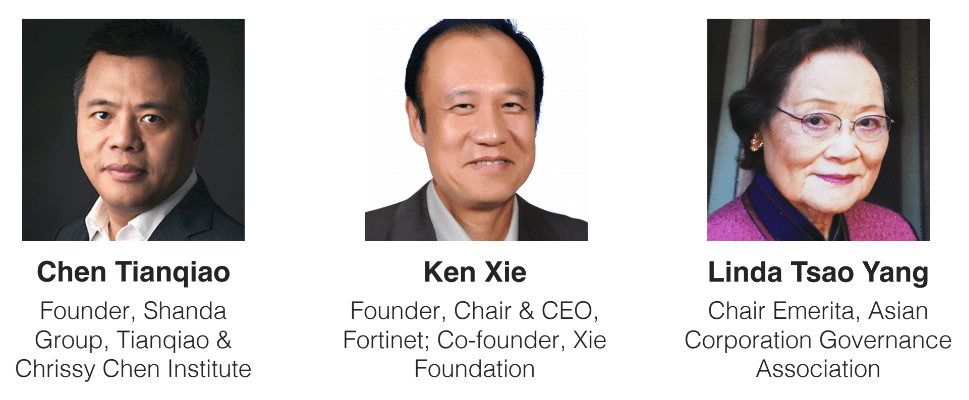 CONFERENCE TOPICS:

  OPENING REMARKS: 
Ro Khanna, U.S. Representative, D-CA 17th District
Janet Lamkin, California President, United Airlines


  KEYNOTE SPEAKERS: 
Chas Freeman, Senior Fellow, Brown University's Watson Institute; Former Assistant Secretary of Defense; Former U.S. Ambassador to Saudi Arabia
JIN Liqun, Inaugural President, Asian Infrastructure Investment Bank
Gary Locke, Former U.S. Ambassador to China; Former Governor of Washington; Former Secretary of Commerce

  GALA KEYNOTE: 
Max Sieben Baucus, Co-Founder, Baucus Group LLC; Former U.S. Ambassador to China

  PANEL I: U.S.-China Trade and Economic Outlook
The U.S. trade deficit with China, which stands around $350 billion, is the top concern among Americans regarding the U.S.-China relationship. (Source: Committee of 100 2017 U.S.-China Public Perceptions Survey). At the same time, a majority of Americans agree that trade with China, the U.S.'s second largest trading partner, is beneficial to the U.S. economy and that Chinese investments should be encouraged. This panel will discuss these and other divergent viewpoints, and highlight opportunities to improve the most important bi-lateral trade relationship in the world today.
Panel Chair: George Koo, Columnist, Asia Times; International Business Consultant
Speakers:
Chas Freeman, Senior Fellow, Brown University's Watson Institute; Former Assistant Secretary of Defense; Former U.S. Ambassador to Saudi Arabia

Yukon Huang, Senior Fellow, Carnegie Endowment; Former Country Director for China, World Bank

Susan Shirk, Chair, 21st Century China Center, School of Global Policy and Strategy, UC-San Diego; Former U.S. Deputy Assistant Secretary of State

  PANEL II: Belt and Road Initiative
Launched in 2013 by President Xi Jinping, the Belt and Road Initiative is aimed at building infrastructure to connect China to a range of Southeast Asian, Central Asian and European countries. This panel will explore the initiative's potential impact on global economic growth and development as well as its geopolitical implications.
Panel Chair: Henry Tang, Managing Partner, Carnegie Towers Strategic Investment Advisory
Speakers:
FAN Gang, Director of National Economic Research Institute, China Reform Foundation

David M. Lampton, Chairman, The Asia Foundation; Professor and Director of China Studies at the Johns Hopkins School of Advanced International Studies

Huiyao (Henry) Wang, Founder and President of Center for China and Globalization

   PANEL III: Tech Entrepreneurism in Silicon Valley and China
Over the past decade, U.S.-China technology and innovation have grown exponentially. The Chinese government has recently committed to economic transformation and support of innovation and entrepreneurship. How will this affect future collaborations between the U.S. and China in technology, innovation, and entrepreneurship?
Panel Chair: Chi-Foon Chan, President & Co-CEO, Synopsys, Inc.
Speakers:
Jian-Yue Pan, Founding Partner, SummitView Capital
Jonathan Woetzel, Director, McKinsey Global Institute; Senior Partner, Shanghai McKinsey & Company

  Fireside Chat with Fei-Fei Li on Artificial Intelligence
Artificial intelligence has gone from futuristic speculation to present-day reality. As China speeds up investment in the AI industry, President Trump calls for budget cuts on AI R&D investments. Our panel of experts will help shed light on the state of U.S.-China AI technology advancement, its impact on both economies and the larger implications for long-term U.S.-China relationship.
Speakers:
Fei-Fei Li, Chief Scientist, Artificial Intelligence (AI) and Machine Learning (ML), Google Inc., and Professor of Computer Science and Director of AI Lab, Stanford University

Jerry Yang, Co-founder and Former CEO, Yahoo! Inc.

   Chinese-American Journeys: TED-Style talks by C100 members
AGENDA:
VENUE: HYATT REGENCY SANTA CLARA, 5101 Great America Parkway, Santa Clara, CA 95054
MAY 5, 2018, SATURDAY – SUMMIT | 8:00AM-4:45PM
ATTIRE: BUSINESS
MAY 5, 2018, SATURDAY – AWARDS GALA DINNER | 6:00PM-9:00PM
ATTIRE: BUSINESS
MAY 6, 2018, SUNDAY – C100 TOWN HALL | 1:30PM-5:00PM
ATTIRE: BUSINESS
CO-CHAIRS: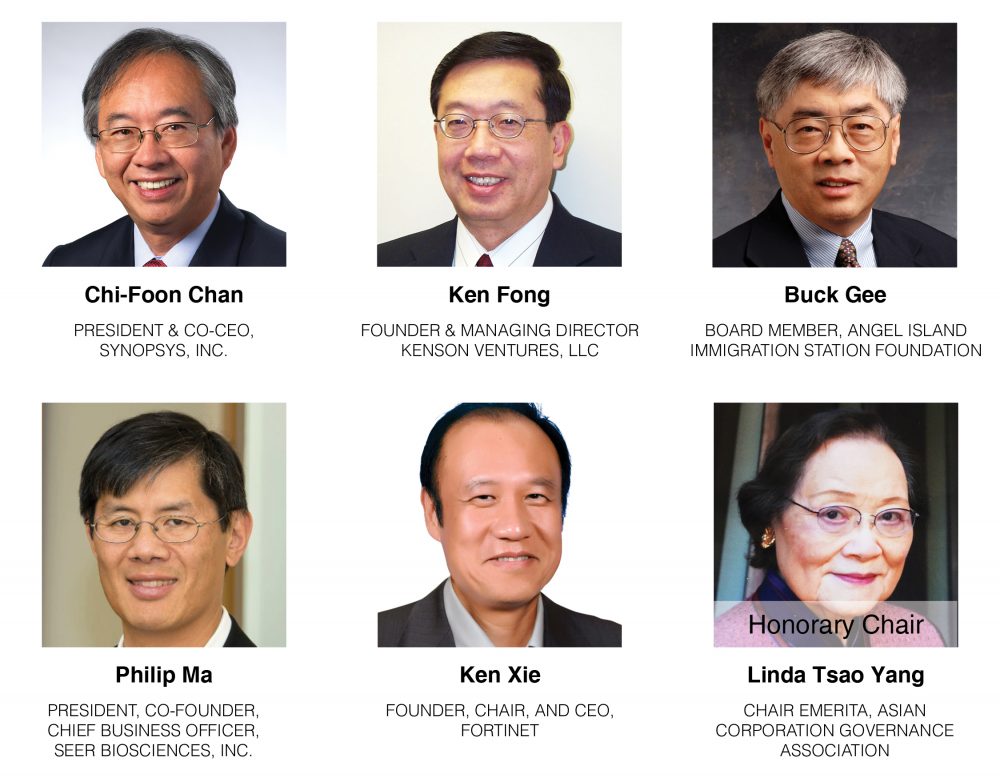 Registration Closed

Sponsorship
Participate as a VIP at the Committee of 100's 2018 Annual Conference in Silicon Valley, the nation's premier forum on U.S.-China relations and Chinese American advancement
Build your visibility and brand as a respected partner of the preeminent leadership organization of Chinese Americans committed to excellence and achievement
Gain unique access to engage in dynamic discussions with renowned influencers in U.S.-China relations and issues important to the Chinese American community
Network with distinguished Committee of 100 members, business leaders, and other key decision-makers
Click here to download the full sponsorship package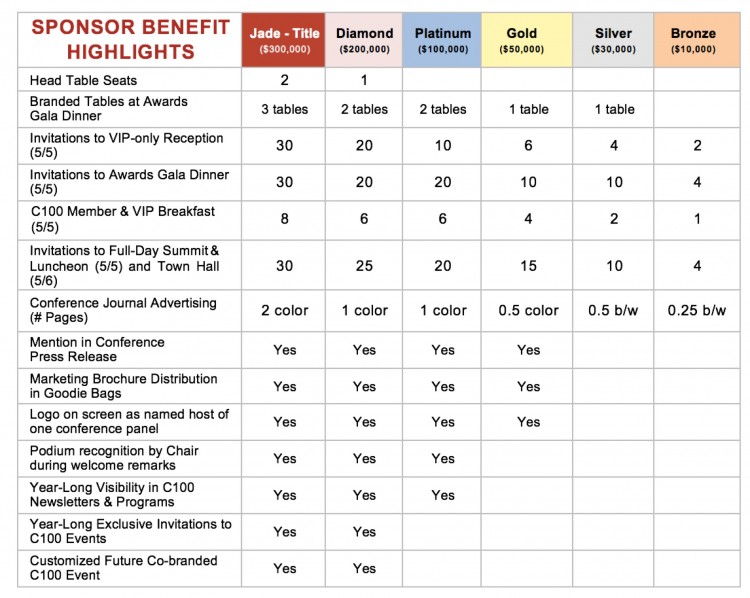 Interested to sponsor the C100 2018 Annual Conference in Silicon Valley? Contact C100 at sponsor@committee100.org for full benefit details. C100 is a 501(c)(3) tax-exempt nonprofit.


Committee of 100 2018 Annual Conference Media Registration
The Committee of 100 welcomes media who are employed by accredited news organizations to apply for complimentary media credentials to cover the pre-conference briefing on May 2, 2018 and/or annual conference onsite on May 5-6, 2018 at the Hyatt Regency in Santa Clara, Calif.
PRE-CONFERENCE MEDIA BRIEFING (May 2, 2018, 11AM PT/2PM ET)
Join a pre-conference briefing hosted by Committee of 100 leaders and select speakers on May 2nd  at 11:00AM PT/2:00PM ET. The briefing will address main themes, trends, and conversations around the key topics to watch for and that will be discussed at the Committee of 100 annual conference.
CONFERENCE – May 5-6, 2018
With the theme, "Silicon Valley: Bridge between the United States and China," this much-anticipated summit will focus on timely issues on US-China trade, China's Belt and Road Initiative, technology entrepreneurism, and artificial intelligence, and the role of Silicon Valley and Chinese-Americans as a bridge between the two countries.
Registration
Media must submit registration requests to cover the Committee of 100 pre-conference call and onsite via the media registration form.
For onsite registration – access includes:
Admission to panel sessions and talks during the Committee of 100 Summit on May 5 (8:00AM-5:00PM), Awards Gala Dinner (6:00-9:00PM) and Committee of 100 Town Hall on May 6 (1:30PM-5:00PM)
One-on-one interview opportunities
Please note that the media conference passes are limited due to space. On-site media registration will not be available. We request media submit registration requests by 5:00PM PT Thursday, May 4 latest.

Interview Requests
Interview requests can be made through C100's PR agency, SKC, Inc. by contacting:
Photography, Video, and Audio Recording
Attendees taking photos or audio recording must do so in a non-disruptive manner so as not to disturb the presenter and attendees. Flash photography is strictly prohibited.
Live audio or video streaming of sessions is strictly prohibited.
Questions? Please Contact:

Lodging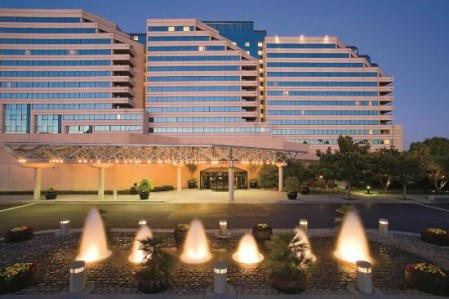 A block of rooms at the Hyatt Regency Hotel, Santa Clara (5101 Great America Parkway, Santa Clara, CA 95054) has been reserved for conference participants, including members and non-members, at the rate of $189 per night (does not include taxes). The C100 group rate is valid from May 3 to May 5.
TO BOOK A ROOM, CLICK HERE or call the hotel at 888-421-1442 and mention the "Committee of 100 room block" when placing a reservation.
*The special room rate for the C100 conference is valid until April 13, 2018.

Sponsors