大会简介 | BACKGROUND
The Committee of 100 (C100) is a non-profit leadership organization of prominent and extraordinary Chinese Americans in business, government, academia, and the arts. Founded by world-renowned architect I.M. Pei and internationally acclaimed cellist Yo-Yo Ma, among others, it is an institution for U.S. citizens of Chinese heritage. For nearly 30 years, C100 has served as a preeminent organization committed to the twin missions of promoting full participation of Chinese Americans in all aspects of American life, and encouraging constructive relations between the peoples of the United States and Greater China.
百人会(简称:C100)是由杰出美籍华人组成的非营利组织,成员来自商界、政界、学界及各艺术领域,由蜚声全球的建筑大师贝聿铭及大提琴演奏家马友友等人发起成立。成立近30年来,百人会汇集其杰出会员的集体力量,始终致力于其两大使命,即推动美籍华人在美国社会生活中的全面参与,促进美国及大中华地区间建设性关系的发展。
大中国区年会及晚宴 | China Conference and Gala 2018
The Committee of 100 is restarting its China Annual Conference and Gala on December 1, 2018, in Beijing.
The C100 China Conference was last successfully organized in 2013 and mirrors our U.S.-based conferences, providing high-level speakers from the U.S. and China with a unique opportunity to address our members, other prominent business leaders, academics, artists, media, and government leaders. The aim of the Conference is to elevate dialogue and visibility on critical issues that may improve U.S.-China relations.
百人会将于2018年12月1日重启大中国区年会及颁奖晚宴。百人会最近一次举办中国年会是在2013年。与在美国举办的百人会年会相似,中国年会将为中美两国的领袖人物提供一个独特的交流平台,向百人会会员、商界领袖、以及其他来自学界、艺术界、媒体和政府的领导者发表看法。年会旨在提升相关重大议题的对话规格和能见度,以期在当前的艰难时局下促进中美关系的改善。
第十三届百人会英才奖 | 13th Leadership Scholarship Program
C100 will host the 13th Leadership Scholarship Program (LSP) Awards Ceremony on December 2, 2018. The C100 Leadership Scholarship Program (LSP) was launched in 2005 in partnership with 18 prominent Chinese universities to recognize and foster the global leadership potential of Chinese graduate students. Through a rigorous and competitive process, scholarship awardees are Chinese graduate students, selected based on dedication to social responsibility, academic distinction and bridge-building between the U.S. and China.
百人会将于2017 年12 月2 日在北京举行百人会英才奖2017 年度颁奖庆典。百人会英才奖项目由百人会于2005 年发起成立,与十余所中国著名高校合作,表彰和培养具有成为全球领导者潜质的中国研究生。获奖者通过严格而激烈的选拔产生,不仅专业表现突出、热心公益,更要具备思想力、领导力和创新力。

大会议程 | CONFERENCE AGENDA
大会联席主席 | Conference Co-Chairs

大会议题 | Conference Panel Topics
• Artificial Intelligence in the Automotive Industry
• U.S.-China Political Relations
• U.S.-China Trade
• 汽车行业中的人工智能
• 中美政治关系
• 中美贸易

赞助方案 | SPONSORSHIP OPPORTUNITIES
Gain VIP access

to meet with distinguished C100 members, speakers, and national decision-makers

Enhance your brand

as a respected partner of a leadership organization of Chinese Americans committed to excellence and achievement
Demonstrate your support for a prominent non-profit organization advancing constructive ties between the U.S. and China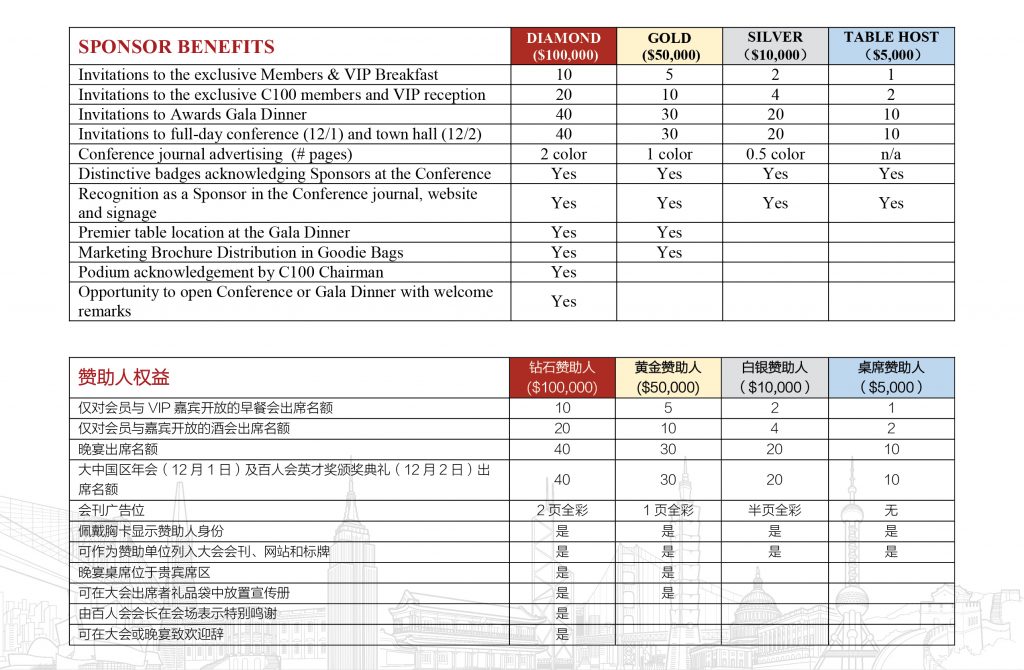 Download Full Sponsorship Package Here.


会务信息 | CONFERENCE LOGISTICS
酒店信息 | Lodging Information
Beijing Marriott Hotel Northeast, China
Address: 26A Xiao Yun Road, Beijing, China
Phone: +86-10-5927-8888
北京海航大厦万豪酒店
地址: 北京市霄云路甲26号
电话: +86-10-5927-8888
交通信息 | Transportation
交通枢纽
北京首都国际机场 – 17.2公里
北京火车站 – 6.2公里
公共交通
可乘坐地铁十三号线及机场快轨
Transportation Centers
Beijing Capital International Airport – 17.2 km
Beijing Railway Station – 6.2 km
Public Transit
Access to the subway line and airport express